2023 Varsity Co-Ed Golf
GAPPS Golf Contact - Marshall Seelye - golf@gappschools.com
Golf Sub-Committee Chair - Ken Van Ness - Peachtree Academy - ad@peachtreeacademy.com
State Golf: (CLICK HERE FOR QUALIFIED TEAMS/INDIVIDUALS)
Location: Bull Creek Golf Course, Columbus, GA (EAST COURSE)
Date: 5/8/2023
- $30.00 per golfer - range included
- $18 cart rental for parents (1 cart per team)
- Practice rounds - with a cart $26, walking - $10
Tee Times will begin at 10:00am (Shotgun)
9:30 Coaches Meeting
Food will be included with the $30 entry
2023 State Qualifiers:
Forsyth Golf Club - Host: Rock Springs Christian Academy - April 24
- $30 per golfer for 18 holes (Bring payment as a team, to course. Make checks out to Forsyth Golf Club. DO NOT MAIL TO GAPPS)
- 1 free cart for coaches per school
- $15 spectator carts for 18 holes
-$28 with Cart Practice Rounds (Weekday)
- Range balls included.
Heron Bay Golf - Host: Skipstone Academy - April 26
- Tee Time: 9:00 AM
- Cost: $25.00, please bring check to the course/do not send to GAPPS! (Range Balls included)
- Spectator Carts - $25 (First come, First Serve)
- Practice Rounds - $20 walking, $30 riding on weekends. Call Course to set-up.
Royal Lakes Golf and Country Club - Host: Lanier Christian Academy - April 24
Start time 9:00 am tee times – off #1 and #10 (double tee)
Tournament cost per player will be $30.00
Spectator carts will be rented at $40.00
Coaches will have two complementary carts per team.
Practice rounds will be $40.00 per player.
Practice round tee times will be open after 2:00pm on Friday, Saturday and Sunday.
Range balls will be included for practice rounds and tournament day.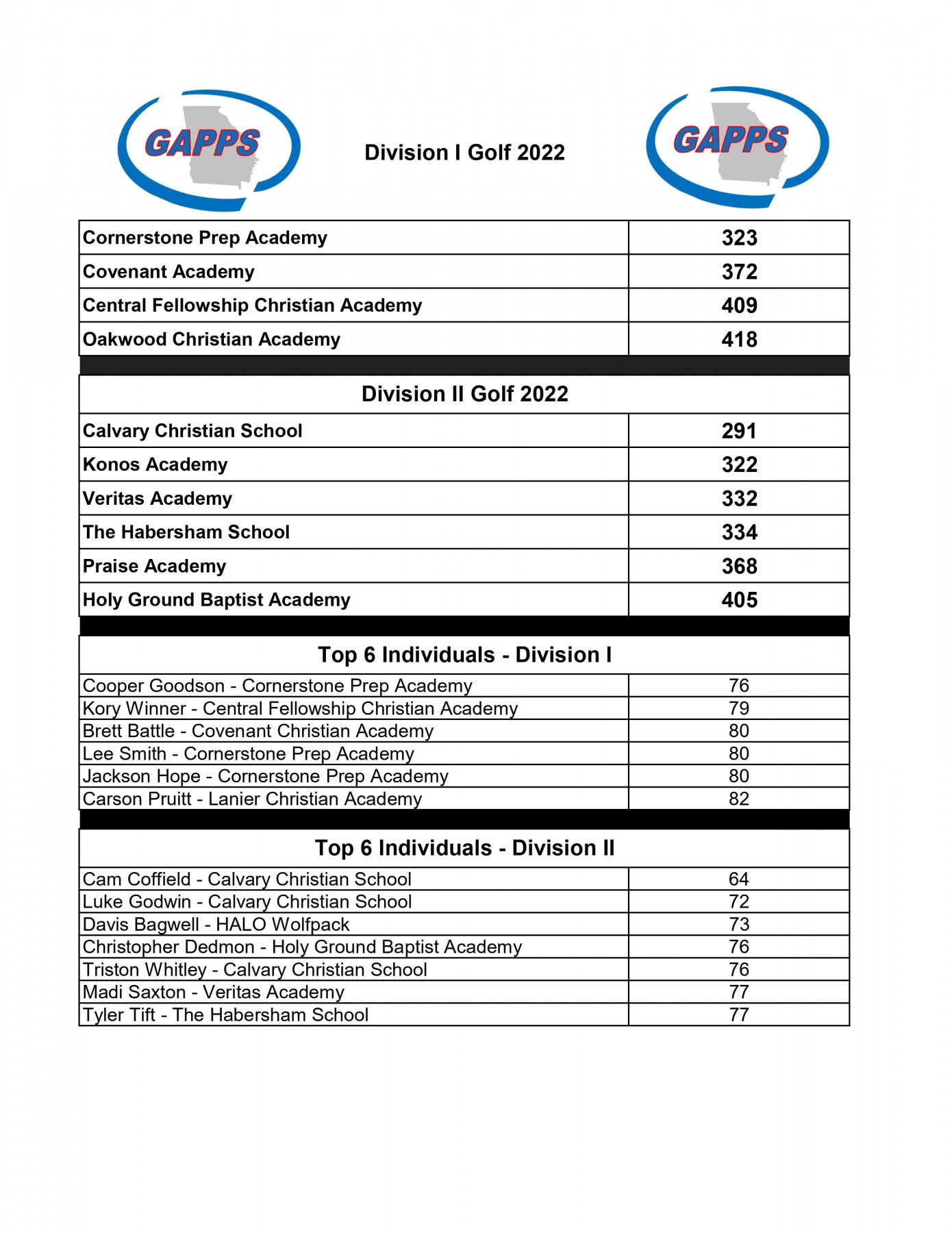 2021 - State Scores